For the first time ever (at 9:00am 14th April 2022), it is now possible to book a stay at Grampians Paradise online. The online booking page has pictures of each site and onsite caravan and a detailed description including size, what would fit on the site, whether the site is shady or sunny and more. It is possible to check availability for given dates. If you proceed to make a booking, the way we have set up the booking portal, it will provide you with additional information and questions that will help you choose a site or onsite caravan that could work really well for you. Please take the time to read the information provided.
If you prefer talking with someone, or having difficulties with the online booking page we are very happy to answer your questions by phone or to do a phone booking with you. You can contact us on (03)53566309 or by email or use our Enquiry Form.
Also please take advantage of the information and view the pictures on our Website - it is really helpful for working out if Grampians Paradise is your ideal destination and includes a really helpful site map.
Grampians Paradise Camping and Caravan Parkland offers:
Large Grassed Sites, Mountain Views, Shady Trees, and Lots of Space.
Facilities include hot showers, children's bathroom, accessible bathroom with toilet and shower and camp kitchen.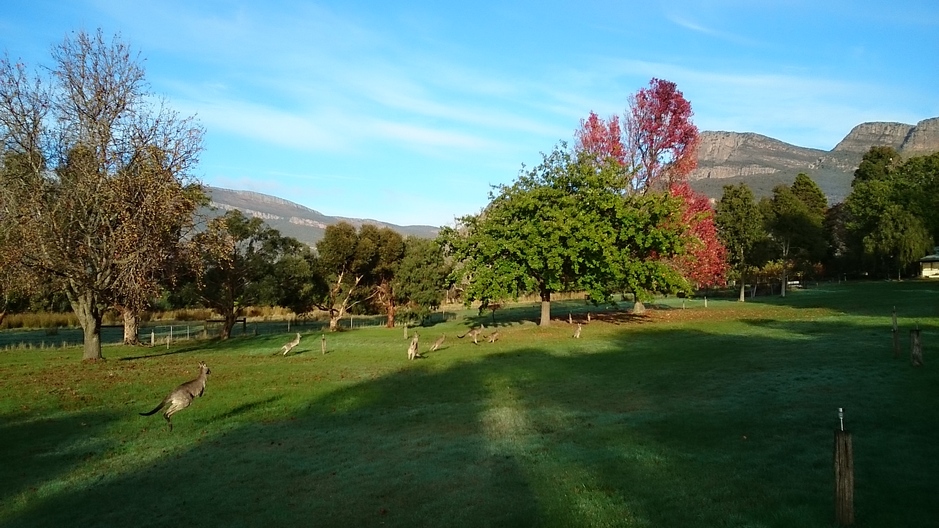 We are 750 metres off the edge of the Grampians National Park, under its highest mountains, just 15 minutes drive south south-east of Halls Gap at 443 Long Gully Rd Pomonal 3381, Victoria, Australia.
Update - 10.00pm Thursday 9th June 2022:
Queens Birthday (June) Long Weekend: We have sites available for the June Long Weekend: there is currently a choice of sites available, and these can be viewed on our online booking system, where there are photos and information about each site. Please feel welcome to call us or email us for further information or to book over the phone.
Easter 2023 is likely to book out 6 to 10 months in advance. Our booking diary is currently open for Easter 2023 with a range of sites still available at this stage. Check Availability or Book Now
We have Vacancies for:
For all weeks we have vacancies for powered and unpowered sites and on some nights onsite caravans.
To check which sites are available, please contact us by phone, email or online enquiry.
Please note that unless we have existing bookings on Tuesdays and Wednesdays, we are closed on Tuesdays and Wednesdays outside of Victoria school holidays and long weekends,
to facilitate the opportunities of an "exclusive stay". This enables you to camp in the campground without other campers, it is a fantastic opportunity for groups or those wishing to experience the tranquil nature of a quiet campground. More information on Exclusive Stays to follow soon. Please feel welcome to call us to discuss this option.
From Monday 27th December 2021, a new pricing structure has been applied. Larger sites (both powered and unpowered) now include 3, 4 or 5 people in the site price. There are also some sites that include 2 people in the site price.
Our Onsite Caravan prices have been revised on the 24th February 2022 and now have a minimum of a 2 night stay outside of long weekends and school holidays. Longer minimum stays in onsite caravans at some peak times applies.
For details see the Tariff Page.
Also from Monday 27th December 2021, stays at peak times now have a minimum number of nights (a Minimum Stay), instead of the previous "Minimum Fees" pricing system for peak times.
For details see the Tariff Page.
After 32 years since the start of Grampians Paradise, we have made the decision to limit our total of number of guest to around 90 people instead of the traditional 180 people for Easter and other busy times. This gives an incredibly spacious feel, the chance to see kangaroos in the camping ground in the evenings, the sounds of native birds during the day and so much more space for our guests about the camping ground. This however means we will book out much, much sooner for long weekends and school holidays. Please make plans way ahead for your Grampians stay and holiday times and book now so that are able to secure a space.
Autumn School Holidays 2022: We have vacancies for powered and unpowered sites.
If you are wanting to book for the remaining available nights during the Autumn School Holidays, please book as soon as possible as sites are disappearing fast - particularly for the Anzac Day long weekend.
Anzac Day long weekend 2022: We are now fully booked for the Friday and Saturday night for the Anzac Day long weekend.
Queens Birthday Day long weekend 2022: We have vacancies for powered and unpowered sites and onsite caravans.
While we still have a good range of sites available for the Queens Birthday long weekend, please do leave making your booking until the last minute. This will improve the chances of you getting the site you want.
Winter School Holidays 2022: We have vacancies for powered and unpowered sites and onsite caravans.
This is the one holiday period of the year where you can be confident of still having sites available for a last minute booking. While there is an increased chance of rain during winter, it is only a small number of days per week where any rain falls. A booking made in the week before your arrival would give you a chance to check the weather outlook for "Pomonal" and pick the good days. It's a great time of year for walking or longer hikes. If you are lucky and strike the right day, the best light of the year for photography occurs in our location during winter.
Spring School Holidays 2022: Including AFL long weekend and S.A. Labour Day long weekend.
We have vacancies for powered and unpowered sites and onsite caravans.
While we still have lots of sites available for the Spring School Holidays, please consider making a booking now to avoid missing out. They can disappear fast and a long way in advance.
Melbourne Cup long weekend 2022: We have vacancies for powered and unpowered sites and onsite caravans.
Melbourne Cup long weekend (first Tuesday in November) is a very popular long weekend. With the maximum number of guest we are taking in 2022 reduced to half of that of previous years, we are likely to book out months in advance. If at all possible, please book now to avoid missing out.
Summer Holidays 2022 - 2023: We have vacancies for powered and unpowered sites and onsite caravans.
We are already getting lots of enquiries for all of the summer holiday, right from mid December 2022 to the end of January 2023. We always book out in advance for the summer holidays and all the shady sites can be booked out months in advance. To make sure you get your choice of site(s), particularly if you are after good shade from the trees planted by our family over the last 90 years, please consider booking as soon as you are able to work out your holiday leave.
Current Covid-19 restrictions are now much reduced (January 2022) All our facilities (excluding the campsite lounge room) are now open to all our guests.
We have showers with hot and cold water, flushing toilets, drinking water tap and dishwashing sinks that are open and available for use. There are however still some restrictions. The camp kitchen is open but the Hub (campsite lounge room) is closed to guests.
We are currently here on site (we live here) and are able to take bookings for future camping trips. Please feel welcome to call us and discuss your plans or make a booking.
For sizes of the sites, and the site map see SITE MAP & THE SIZES OF SITES page.
To enquire about prices, or to make a booking, for any long weekend, please contact us as soon as possible, by email, phone or (on-line enquiry). Giving me a call is great way to get information on availability, and set up a booking. If I don't answer please leave a message (sometimes I'm not able to answer the phone for a little bit). I will give you a call back soon as I'm able to. If the phone rings out please try again in 10 or 15 minutes, it is also ok to call me in the early evening.
Also while we endeavour to get back to your online enquires and emails within the half day, sometimes there are so many enquiries it may take a couple of days. You are more than welcome to follow up with a phone call if you want to get get things happening faster.
Kind regards Aidan Banfield
North Valley (NV) site currently not available:
While the Fox Maple School of Traditional Building Workshop (21st to 30th October 2018) is now in the past, for the time being, the North Valley Site (NV) is not available, as the timber framed bridge we built during the workshop is now sitting on the NV site, until we lift it onto its foundation over Valley Lake.

For more information on the Grampians Paradise October 2018 Fox Maple Timber Framing Workshop (and photos from the Spring 2017 workshop held in Maine, USA), and the Timber Framers Gathering Weekend (that was held on the 27th and 28th October 2018) go to www.grampiansparadise.com.au/timberframing
Camping and Caravanning is different things to different people:
If you are after large, grassy sites, spread out spaciously in a beautiful setting, some with views of the mountains, some amongst the big trees and some with views over our little lakes and wetland ponds, and some basic facilities (showers with hot and cold water, flushing toilets, dish washing sinks, a centralised treated drinking water tap and very basic camp kitchen), then Grampians Paradise could be just what you are looking for.
Some people are after other things. Here's a list of what we don't have, to help you work out if would enjoy a stay at Grampians Paradise.
Not supplied: No potable water to the sites, no sullage at sites, no concrete pads for caravans, no dump point for toilet waste, no street lights or paved roads, no playground (just lots of space for play), no shop (The Grampians Store is 10 minutes drive away, where there is Petrol, Diesel and Ice) and no wifi (Telstra, Optus and only some Vodafone's have data and call coverage in the camping ground). There are 4 km of gravel roads into Grampians Paradise.
There is, however, TV reception if you have a TV. Our camp kitchen does not have a microwave or an oven.
We do however have lots of native birds and animals around, some of the best views of the Grampians and we never let our parkland grounds get crowded, Even at the busiest times.
No Pets
Unfortunately we are not able to have guests bring their pets with them to stay at Grampians Paradise.
Also it is worth knowing that the Grampians National Park is place where pets are not permitted.
If you are looking for a Grampians caravan park that allows dogs, try calling the Halls Gap Visitor Information Centre.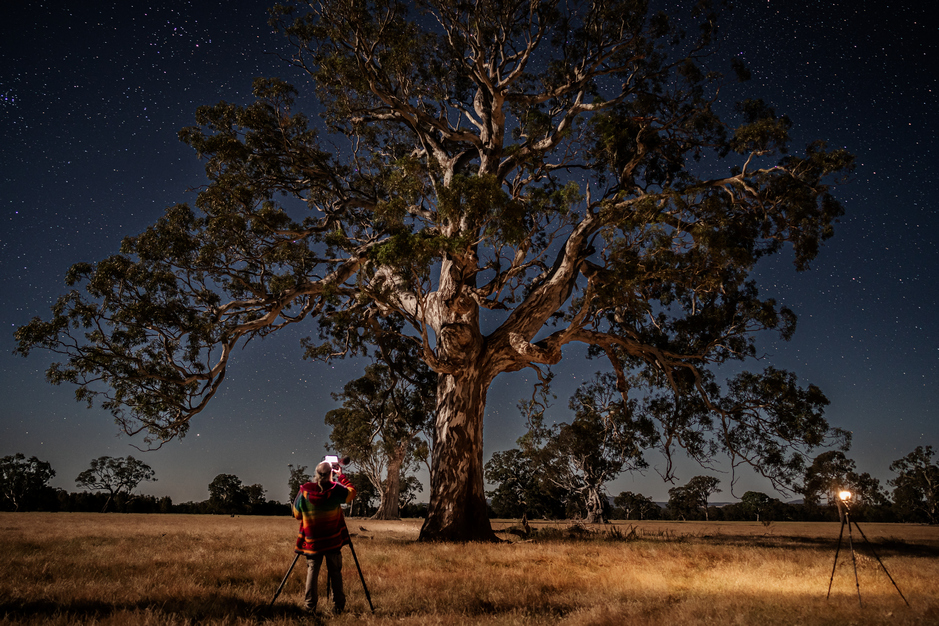 Dark Sky's, bright stars and beautiful moon light. Grampians Paradise is an ideal location for a base for night time photography.
Aidan Banfield at the camera working on a night time-lapse. Photo by Michael Uthe.
Kahuna and Heartworks Lomi Lomi massage, Sound Therapy with Quartz Crystal Singing Bowls and Pelvic Trauma Therapy/Gentling Way Techniques at Grampians Paradise.

Nessa (Vanessa Beckitt) brings some great bodywork to Grampians Paradise - you can have a massage without having to drive anywhere! As Aidan's wife, Nessa is involved with campground tasks part of the time, and also enjoys spending time working with quartz crystal singing bowls, qigong, bodywork and healing.
Our massage studio is tucked away in the camping ground, despite being fairly close to the office, you can enter through the doorway and forget the concept of time and the stresses of the busy world. It really feels like a world away from everything.
In September 2016 Nessa travelled to Queensland to extend her Kahuna Massage Skills on a Level 6 and Level 7 Kahuna Massage training retreat, and now offers Kahuna Massage, Heartworks Lomi Lomi and Arvigo Mayan Abdominal Therapies® as well as Crystal Sound Therapy and Sound Spas using the Quartz Crystal Singing Bowls within the Innerji Sound and Massage Studio room. Nessa is also an accredited Remedial Massage Therapist with MMA. During the COVID Lockdown of 2020 Nessa has been training with The Gentling Way Pelvic Therapies as well as graduating as an Open Sky Qigong Facilitator. Appointments are required in advance by private arrangement. Please note that Nessa does travel for professional development and to see family in Tasmania, so please check her availability when booking if you are keen to have a massage during your stay.
For information on Kahuna Massage, Arvigo®, Heartworks Lomi Lomi and other therapies offered by Nessa at Innerji Sound and Massage see http://www.innerjisoundandmassage.com.au/page3.html
and this really great video demonstration - Kahuna Massage demonstrated by High Spirits Retreat / Mette's Institute , from where Vanessa has completed her Kahuna massage training.
We also have a discount for Kahuna Massage for Guests of Grampians Paradise Camping and Caravan Parkland (campers must be booked in for a minimum of one night in the camping ground) which gives discount for Kahuna Massage treatment on any day of the week between 9am and 5pm - Camping Guest Special*. If you wish to take up this offer, please let us know when you make a booking at Grampians Paradise or let us know at Innerji Sound and Massage so that we can make sure there is a time available for you. Please note that we recommend making a booking in advance as we cannot guarantee that there will be availability for walk-ins.
*Specials operate independently of each other - only one discount can be selected per session. Sorry, but Remedial Massage is not included in any of the discounts or specials.

Vanessa Beckitt is a qualified Remedial Therapist registered with MMA (previously AAMT) for Health Fund Rebates and is trained to level 7 in Kahuna Massage.
Please contact us to confirm availability for a given date.
Nessa (Vanessa) Beckitt, Aidan Banfield and our two adult sons are the family that are your hosts at Grampians Paradise. If you are lucky you may get to meet Tom and Aileen Banfield, Aidans parents. Tom established the Campground originally.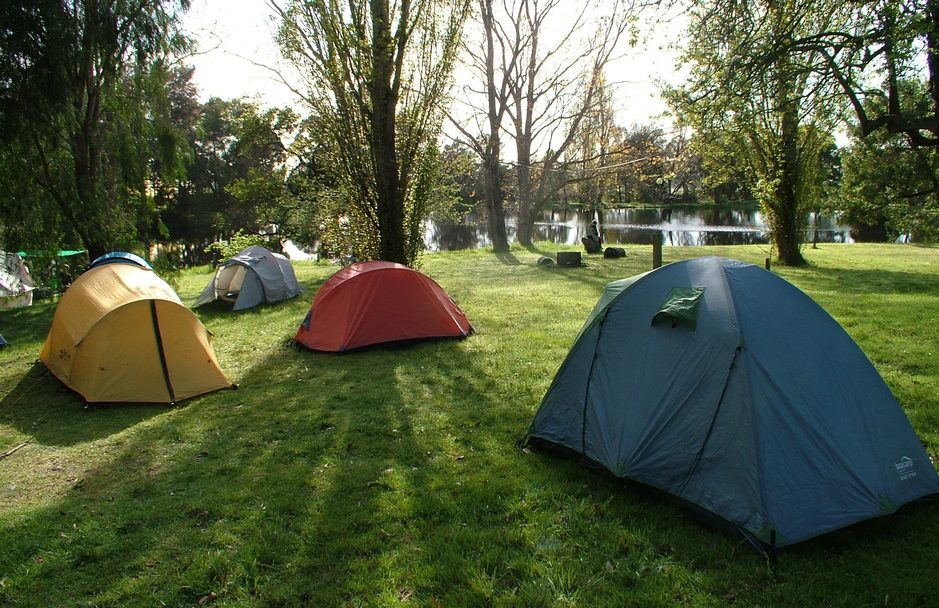 Early morning light and green grassy sites by our little Blue Lake. This is Lakeside 3 (L3) a Lakeside Powered Site suitable for camper trailers, tents and small or mid sized caravans.
Grampians Paradise hosted a 10 day Traditional Timber Framing Workshop 21st to 30th October 2018:
Before bolts, screws and nails, building were made of large timber beams and post held together by joinery - tenons and mortises held in place by timber pins. While there are very few examples of this style of Traditional Timber Buildings in Australia, around the world buildings using the traditional style of timber construction have stood for hundreds of years, some even close to 1000 years.
In the last 30 to 40 years there has been a revival in Traditional Timber Framing in America, England and Europe. Grampians Paradise now has the pleasure of hosting one of the great teachers of this revival, Steve Chappell, for the next of his "Fox Maple's World Tour Traditional Timber Framing Workshops". The workshop is intensive, includes both theory and practical hands on learning, using both traditional hand and modern powered carpentry tools, while working on a large scale timber frame project.
The workshop started early on Sunday 21st October and came to a close late on Tuesday 30th October 2018
For more information and pictures see www.grampiansparadise.com.au/timberframing
Interested in reading more? Steve hosts workshops around the world, so for more information go to Fox Maples School of Traditional Building and Registration Form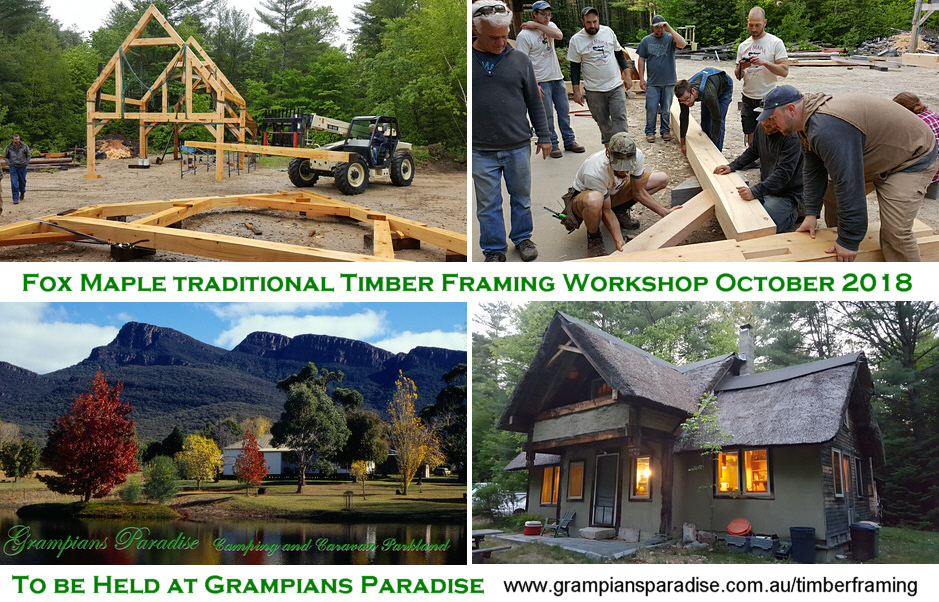 Information on the above photos:
Top left: Traditional 2 story timber frame built in the Spring 2017 Workshop at Fox Maples Maine, USA campus. This was the 35th Anniversary Year of Fox Maple Workshops.
Top right: Course participants assembling the frame they had cut - Spring 2017.
Bottom Right: The Dining Hall at Fox Maples Maine, USA campus - the frame was cut and raised by students in the June 1997 introductory and advanced workshops.
Photos taken by Aidan Banfield while attending the introductory and advanced workshops in USA - Spring 2017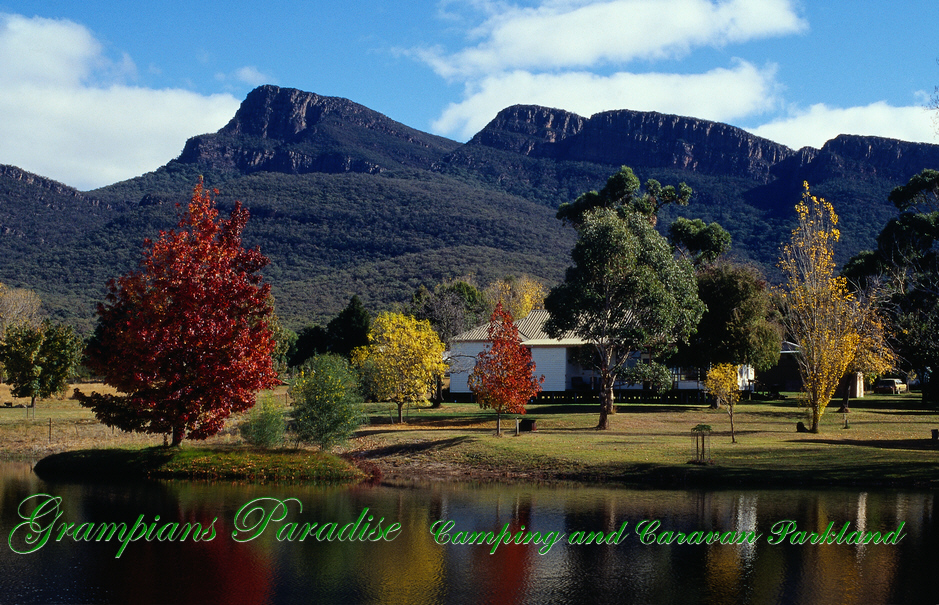 Looking for a place to stay in the Grampians, Victoria, Australia?
If you drive via Redman Rd through the avenue of trees and along the 4 kilometres of gravel road, you'll find Grampians Paradise Camping and Caravan Parkland, with the opportunity to escape wifi and technology and lose yourself in nature . Grampians Paradise is nestled on the eastern side of the Grampians National Park with views of its highest mountain, Mt William and Redman Bluff (3rd highest peak) and surrounded by the seasonal Redman Bluff Wetlands (spring time is amazing for the wetlands and Grampians Waterfalls).
We invite you to be our guests and to enjoy a relaxing holiday at Grampians Paradise Camping and Caravan Parkland, with large grassed spacious sites with shady trees (some sites are shady, some are sunny and some have amazing views of the mountains).
We are outside the crowded tourist area, with beautiful views of the mountains and surrounding countryside, but within easy reach of the popular Grampians attractions and Halls Gap (15 minute drive to the Gap).
We believe in the quality of natural experience. Our water comes from the small lakes above the camping ground which are feed by mountain streams, and often our water has the tannin content loved by makers of whiskey and without the chlorine of town water supply.
Our water is heated traditionally by a wood fired boiler which gains solar boost during sunny days.
With the spacious powered sites and unpowered sites taking some of the best locations within our parkland, we differ from most other tourist parks in that there are no rows of cabins interrupting the views of the grounds and surrounds. The small number of period style (vintage and retro) onsite caravans are scattered about the camping ground and within easy reach of the amenities and other basic facilities.
We trust you will enjoy the peace and tranquility of camping in our beautiful parkland, with some sites overlooking our small lake. The camping ground is also surrounded by wetlands that are the home of many native Australian animals and birds.
Many of the spacious grassed camping areas are shaded by tall trees and "bush garden areas", some with beautiful Australian native flowers, which attract a myriad of native birds and animals. Kangaroos are often seen about the camping ground in the evening and night time.
There are only a very few other area's in all the places I have visited with as many birds (both in total numbers per hectare, and numbers of species - over 100 different species recorded) than here at Grampians Paradise.
The Parkland Sites (P1 to P12) are the ones that have great views of the Grampians Mountains.
While we will not suit everyone, if you are after a camping ground, or a place to stay with a tent, camper trailer, caravan, camper van or motor home, that has a few more facilities than a National Park camping ground, but not the development and "mini" suburb feel of a big commercial caravan park, then we feel you will love Grampians Paradise.
Your hosts,
Aidan Banfield & Vanessa Beckitt.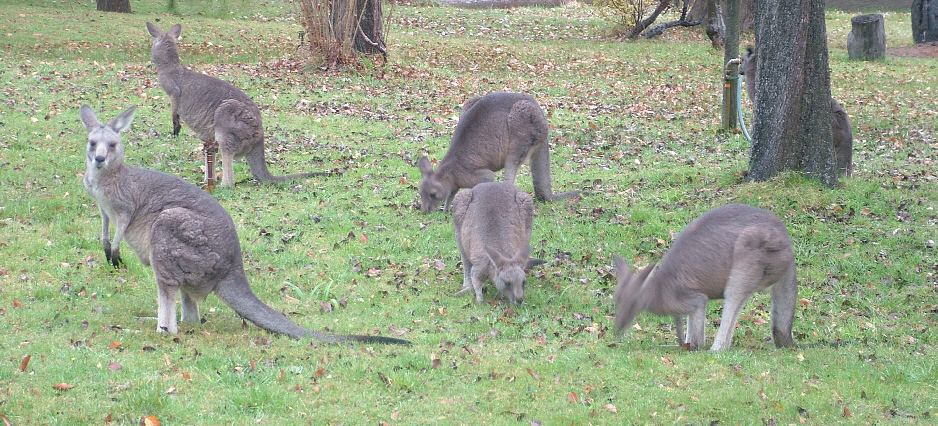 Kangaroos grazing in the early morning in front of our little lake, right beside the Lakeside Powered Sites.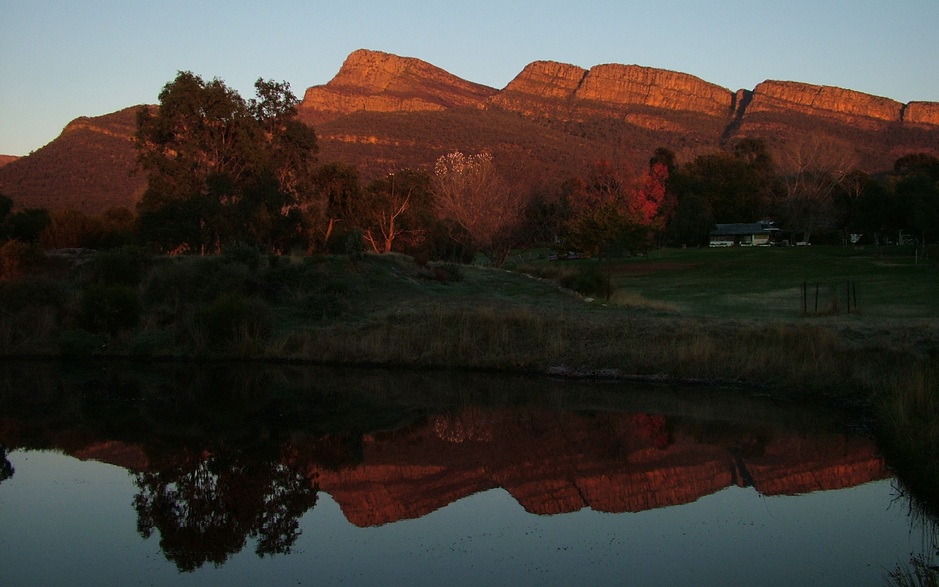 Sunrise on the cliffs of Redman Bluff reflected in the waters of Observatory Lake, one of thirty wetland ponds of the Redman Bluff Wetlands that surround three side of Grampians Paradise Camping and Caravan Parkland.
Grampians Paradise Site Map (this map is accurate to scale).
All of our sites have something special about them. It might be they are shady, or are big, by our lake, have a fire place (available for use in late autumn, winter and spring) or have great views of the mountains.
This map is to scale, and some of the sites are huge. South 7 (S7) for example is 18 by 10 metres in size (180 square metres). Even North 3 (N3) is 8 by 9 metres in size.
To help you select your site we have two list with photos. For these lists go to Sites by Location or Area or Sites by Classification or Type (each type of site has a different price to other types - see the tariff page).